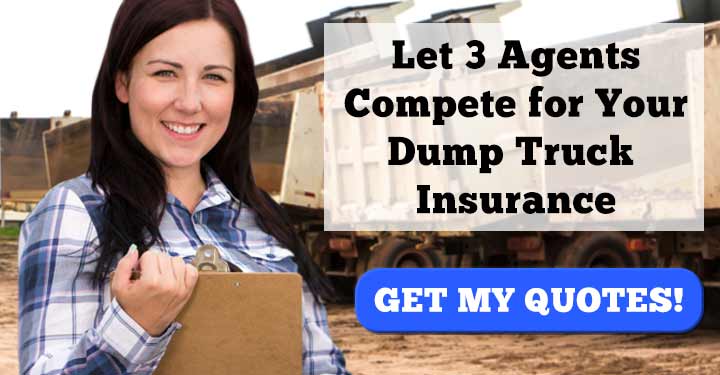 When you compare policies between several agencies, you know for certain that you're getting the best possible primary liability insurance for your dump truck. That's why we've culled together the agents from your area into one spot. Now, comparing several policies at once is as easy as pie.
Fill out one form and we'll connect you with three agents who specialize in primarily liability insurance for dump trucks. Its free for owner/operators to use and only takes a few seconds. Get started now!

What is Primary Liability Insurance for Dump Trucks?
Primary liability insurance is the backbone of your commercial dump truck auto insurance policy. This coverage, mandatory in all fifty states, pays for bodily injury and property damage done to other people and property. Driving without liability insurance can result in large fines and penalties. A proof of liability insurance is required to obtain your own authority and MC number. Every for-hire dump truck operator needs primary liability insurance.
What is Covered Under a Dump Truck Primary Liability Policy?
Primary liability comes with two different parts.
Bodily Injury Coverage – When you're deemed at fault in an accident and that accident results in physical injury, this coverage kicks in. It pays for hospital expenses, rehabilitation, funeral costs, and lost wages.
Property Damage Coverage – If you're at fault in an accident that causes damage to personal property including other vehicles, this coverage pays for repairs to that property.
Who Needs Primary Liability Insurance?
For-hire dump truck operators with their own authority are required under the FMCSA to have a primary liability insurance policy. Businesses that own a fleet of dump trucks are also required to insure their vehicles if they use employees to operate those vehicles.
Primary Liability Insurance Requirements for Dump Trucks
Your policy limit is the maximum amount of money the insurance company will pay after an accident. The FMCSA requires limits of at least:
$300,000 for for-hire general freight carriers with a vehicle under 10,001 gvwr
$750,000 for for-hire interstate general freight carriers with a vehicle over 10,001 gvwr.
Note: Many load brokers will require a minimum of at least $1,000,000 for vehicles over 10,001 gvwr.
What's covered? What's not?
Let's clear up a common misconception. Primary liability insurance covers other people and their property. It does not cover you or your truck. If you're in an accident, primary liability insurance will not cover the repairs of your vehicle. For that coverage, you need physical damage insurance.
Similarly, this insurance only covers accidents where your dump truck is involved. This isn't the similarly-named general liability insurance. If someone slips and falls on your property, primary liability insurance will not cover it.
Cost of Primary Liability Insurance
The cost of your primary liability insurance is determined by a few factors.
The size of the dump truck
The state you live in
Your operating radius
Your driving record
Your limits and deductibles
Since you have little control over these first four factors (and limited control over the last), the best thing you can do to save on insurance is simply to shop around.
This service will connect you with three agents. They'll offer you their best policy at their best price. You can choose which policy fits your needs. Get a quote today.