Compare physical damage insurance policies between three dump truck insurance agents. It's the best way to save!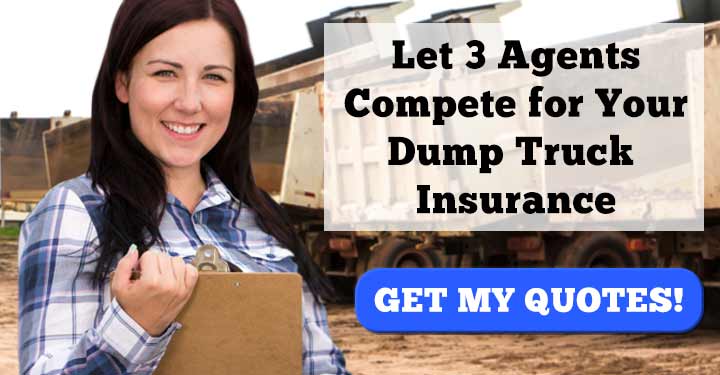 Why Do Dump Truck Operators Need Physical Damage Insurance?
Physical damage insurance is a must for anyone who owns their dump truck. If your truck is involved in a collision, tips over, is vandalized, or is stolen, the insurance company will pay for repairs or a replacement vehicle. Without this insurance, a single wreck could sink you. Physical damage insurance protects your dump truck and your livelihood.
Physical damage insurance doesn't have to be expensive. In fact, when you compare policies from several dump truck insurance agents at once, you will find a policy that meets your budget quite easily. We can get you in touch with three dump truck insurance agents at once who will compete for your business. They offer their best price and you save

Collision Coverage and Comprehensive Coverage
Physical damage insurance includes two different coverages, collision and comprehensive.
Collision Coverage – Pays for damage done to your dump truck when it collides with another vehicle or object. This can be something like a car accident or backing up into a tree.
Comprehensive Coverage – Pays for damage not covered by collision coverage. This includes things like fire, vandalism, theft, and weather damage.
Your Deductible
When you opt for physical damage insurance, you must choose a deductible, which is the amount you pay out-of-pocket after an accident. With a $1000 deductible, you pay $1000 after an accident and the insurance company pays for everything else. Raising your deductible is one way to decrease the amount of your policy premium.
How Your Premium Is Calculated
There is no one price for physical damage insurance. Your insurance agent will calculate your premium based on the following factors:
The value of your truck, with consideration paid to

mileage
upgrades
make
model
age

Your location
Your area of operation
Your driving record
How to Get the Best Price
To get the best price on dump truck physical damage coverage, you must cast a wide net. Speak to several agents, not just one. That's where we can help. By filling out our one form, you can get connected with three agents at once. They'll each offer you a price and you can select the one that best meets your budget.