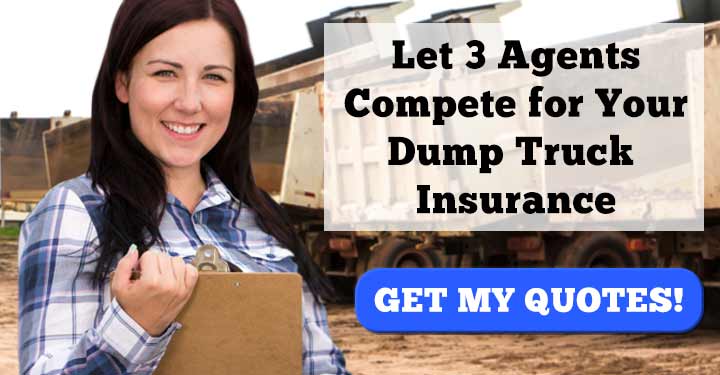 Are you an independent dump truck owner/operator with existing contract jobs? Chances are you need non trucking liability insurance.
Let us connect you with three insurance agents. They will each offer you a quote on non trucking liability insurance and you can compare prices for yourself.

What Dump Truck Non Trucking Liability Insurance Covers
Non trucking liability insurance covers your dump truck when you use it off the clock. It kicks in any time you drive your truck for non-business related purposes. This includes driving your dump truck home or driving it on weekends.
This insurance pays for the same things that other liability policies cover: expenses associated with injuries to people and damage to property when you are at fault.
It pays for things like:
Medical bills
Rehabilitation
Lost wages
Repairs to vehicles
Replacement vehicles
Repairs to other types of property
What It Doesn't Cover
Non trucking liability doesn't cover you when you're on the job or hauling cargo. If you only drive your dump truck for work-related reasons and you never drive it after work, then you don't need non trucking liability insurance. What you need is primary liability insurance.
And neither primary nor non-trucking liability insurance protect your dump truck itself. Damage done to your dump truck, be it collision, theft, overturn, or vandalism, is covered by physical damage insurance.
Typical Non Trucking Liability Policy Limits for Dump Trucks
Discuss with your agent which policy limits are right for you and your truck. A typical policy looks something like this:
| | |
| --- | --- |
| Coverage | Limit |
| Bodily Injury and Property Damage | $1,000,000 (combined single limit) |
| Uninsured/Underinsured Motorist | $50,000 (per person) |
| Uninsured/Underinsured Motorist | $100,000 (per accident) |
Other Questions to Ask Your Agent
You want to get the full story of what your NTL policy covers. Be sure to ask your agent these questions:
How do you personally define non trucking liability?
What non-trucking exclusions should I be aware of?
Does this policy meet the requirements of my lease agreement?
What are the limits of this policy?
Get Started Shopping for Non Trucking Liability
The easiest way to get the best price on Non Trucking Liability insurance is to speak to several agents and see what they're willing to offer. This form will get you in touch at once with three different agents who deal with dump truck insurance policies. There is no easier way to get yourself insured.