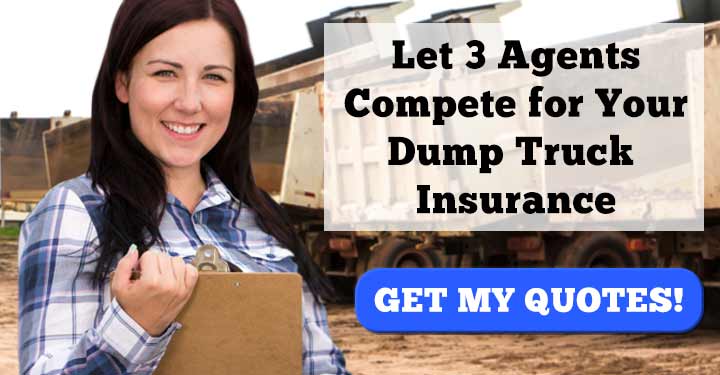 The larger the dump truck, the more expensive it is to insure. That's why we've outlined 5 steps to get the cheapest commercial insurance for your tandem dump truck.
Step 1: Talk to SEVERAL insurance agents.
If you ask ten agents how much it costs to insure a tandem axle dump truck, you'll get ten different answers. It's important to shop around. You never know if you're getting a good price or getting ripped off.
The best way to find multiple agents at once is to use an online quote request form that sends out your details to multiple agents at once. Our preferred quote request form can be found here. You enter in details about your location and dump truck, and three agents will get back to you with the best quote they can offer. They compete for your business and you save money.

Step Two: Select the essential coverages.
Insurance salesmen will try to persuade you to buy a lot of fancy coverages, but there are only a handful that you actually need.
Commercial Auto Liability – This is required by law to get. It pays for damage done to other vehicles or property when you're at fault in an accident.
Collision Coverage – Not required by law, but a good idea nonetheless. This coverage insures your dump truck from damage taken in automobile accidents. If your dump truck is ruined in an accident, you will be reimbursed.
Comprehensive Coverage – This insurance covers your dump truck from things other than automobile accidents. Things like fire, theft, vandalism, and weather damage.
Cargo Coverage – This coverage protects the things you haul in your dump truck and usually comes highly recommended by the construction companies you work with. O/O often have a hard time getting contracts without cargo coverage in their insurance package.
Step Three: Get every discount you can.
Insurance companies offer discounts to reliable drivers, and this can lower how much your policy costs. The thing is, these discounts aren't usually advertised so well. You need to ask for them directly. Every insurance company has different discounts, but some common ones include
Experienced driver discounts
Safe driver discounts
CDL driver discounts
Veteran discounts
Discounts for paying electronically
Discounts for paying in yearly, not monthly, installments
Step Four: Opt for a low limit and high deductible.
If money is truly an issue, you can ask for a cheaper policy by reducing your maximum coverage. By lowering your limit and raising your deductible, you could end up paying more in the event of an accident, but your overall premium will drop.
Step Five: Use your coverage only when you need it.
A lot of tandem dump truck operators only use their trucks during certain parts of the year. If you don't use your truck for extended periods of time–at least a few months—be sure to let your insurance provider know. They can suspend your coverage when you don't need it and reduce your overall price.
Step Six: Renew your coverage often.
It's strange. Insurance prices have a way of increasing the longer you stay with one provider. It's important to change companies every few years. Insurance companies will be happy to steal you away from one another. This prevents any one company from taking advantage of you.
If you're looking for quotes on new insurance, we recommend using this tool, which connects you to three agents at once. They'll look at your information and each offer you a quote. To get started, click the banner below.